Reviewed: 26/07/2022
This page is for the essay submissions in either Semester 1 of BIOL10000 : Draft Tutorial Essay, or the MEDN10000 Year 1 PEP Individual Report. In the following instructions, the work that is being submitted will be referred to as simply "Essay".
BIOL10000: Both Draft and Final Essay are submitted via BIOL10000 Tutorial Blackboard site.
MEDN10000: Draft Essay is submitted to MEDN10000 Blackboard site, Final Essay is submitted into Medlea.
Submitting your Tutorial essay (Draft or Final version)
Within this task you have links to "DRAFT essay submission" and "FINAL essay submission" (BIOL10000 only).
Step 1: Access the essay submission link
When you click on the essay submission link within your Blackboard course, you will see a screen like the one shown below.
Click on 'Upload Submission' to continue.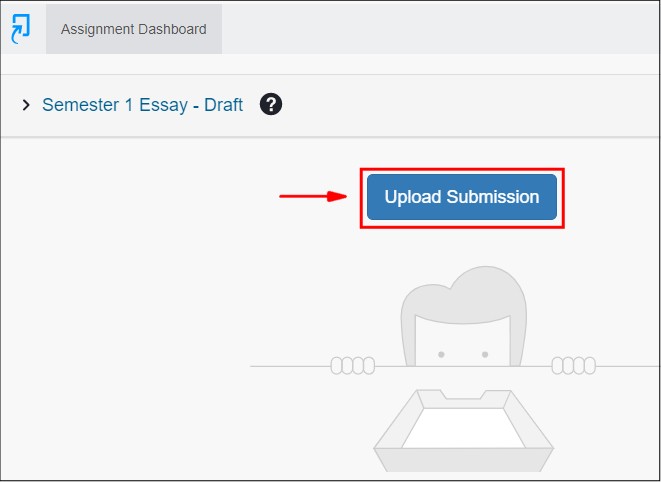 Stage 2: Upload your essay
You will now see the 'Submit File' pop up box (as shown in the image below).
The 'Submission Title' should be your Advisor's/Supervisor's surname followed by your student ID number (can be found on your swipe card), followed by the unit code (BIOL10000 or MEDN10000). e.g. SMITH12345678BIOL1000 – as shown in Step 1 below.
Click on 'Choose File' to locate and select your essay on your computer – as shown in Step 2 below.
Click on 'Upload and Review' to continue – as shown in Step 3 below.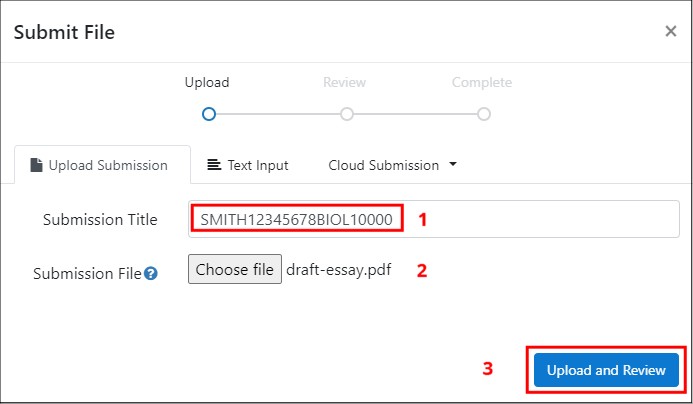 Stage 3: Review and submit your essay
This stage allows you to check you have uploaded the correct document. You can 'Preview', 'Cancel Submission' or continue to 'Submit to Turnitin' (as show in the image below).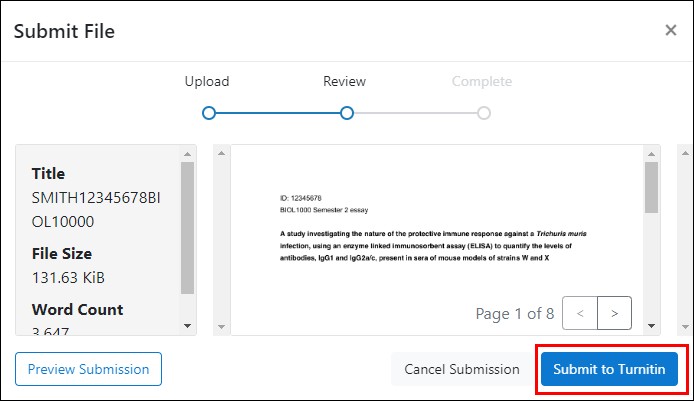 Check that this is the correct essay before you go any further. If not, select 'Cancel Submission' and start again. Once you are happy to move on, click on 'Submit to Turnitin'.
You should then see confirmation that your essay has submitted successfully.
Step 4: Access your originality report
Once you have submitted your essay, Turnitin will compare it with a wide variety of sources and produce an originality report. It may take up to an hour to generate the report, so it is best to log out and do something else for a while. Note: Do not leave your draft submission until the last minute, as this will give you no time to obtain and review your originality report before the deadline.
To check if your originality report has been generated, repeat the first part of Step 1: Access the essay submission link above. Instead of the 'Upload submission' button that you saw originally, you will get a screen showing the title of your submitted essay, with the originality report showing a percentage match and corresponding coloured bar (see image below).

The colour of the bar depends on what percentage of the document has been found to be identical to one or more electronic sources (plagiarised) but is only a crude measure.
If you click on the similarity score, you will be able to view your submission and see details of the matches.
Please see the page: "Interpretation of the originality report" for the University's guidelines on interpreting your originality report.
Was this post helpful?
Let us know if you liked the post. That's the only way we can improve.
SBS – BIOL/MEDN10000 – Tutorial Draft Essay Submission