How do I access my Blackboard courses?
Your courses (sometimes referred to as units) can be accessed via the My Manchester portal: my.manchester.ac.uk. Once there, click on the Blackboard link under the Teaching tab: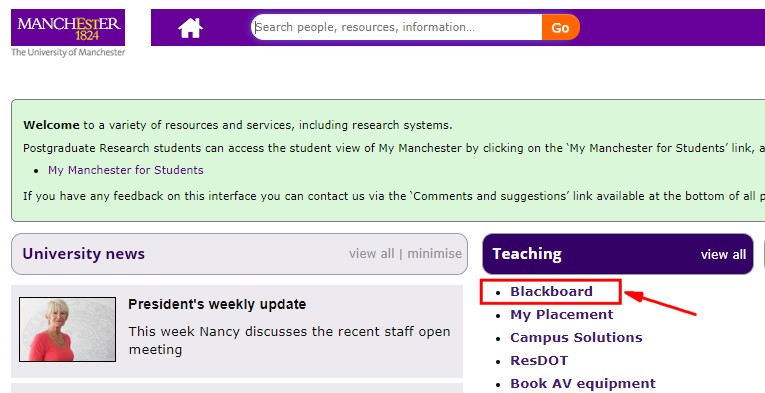 Once in Blackboard, you will see your home page:

Your courses
The units on which you are registered are listed in the middle column (Courses), showing the course code and title of the units and whether they run for a full year, Semester 1 or Semester 2. If the unit is not yet available to students, you will see the availability subtext: e.g. (unavailable – will be available Monday, 12 September 2022).
By default, the course list shows your current units. If you need to view a unit from a previous academic year, select the Past years' courses tab.
To access a unit, simply click on the title.
Organisations/Communities
These are listed towards the bottom of the middle column under the heading My Communities.
Blackboard organisations (or Communities) allow the use of Blackboard to support groups of students (and staff) outside standard scheduled courses.
The main difference between course and community spaces is who has access to them, rather than how they work, although they cannot be credit-bearing.
Examples of how Blackboard organisations/communities are being used include:
a community space for all teaching staff in a particular School
a 'virtual common room' for a specific subject area, to create a sense of identity at the discipline level
a programme space to communicate information and support interaction across levels.
I can't see my Blackboard courses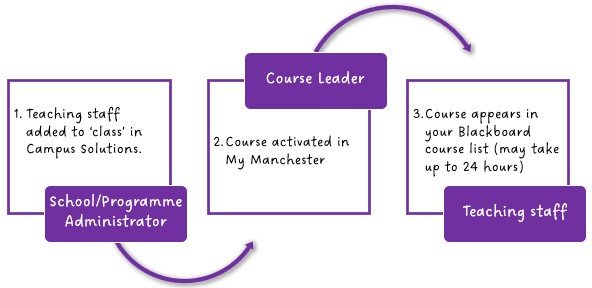 In order to access a Blackboard course:
The class has to be scheduled in Campus Solutions.
You must have the appropriate role on the course in Campus Solutions.
The course must have been activated by the Primary Instructor*
In the first two instances, you will need to check with your School/Programme Administrator.
Only Primary Instructors can activate a course. If you are not the Primary Instructor, you will need to speak to the person who is. *[On some occasions, the eLearning Team may activate courses as part of an opt-in bulk process].
Note: It can take up to 24 hours from activation for your course to be accessible in Blackboard.
Once you are ready to start learning more about navigating your Blackboard courses, move to the next page.