Some straightforward methods of creating a video lecture are described here, and they involve either just PowerPoint or PowerPoint (or other application) and Zoom. Pros and cons for each are listed.
---
Podcast Studio – UoM
A tool from the University of Manchester IT services team.
https://podcast.its.manchester.ac.uk/PodcastStudio/
Pros:

Easy to use
Recording in the web browser – no need to download software
Ties in with simple upload to UoM video portal
Simple editing available post-recording
Recording files downloadable for use elsewhere
Cons:
System audio is not recorded i.e. when playing a video, the final recording will not include any of the attached audio. Recommended to provide links to the video content.
Cannot switch between recording types once started, e.g. moving from webcam + screen share recording to screen share recording only
In-built editing only allows trimming of the video start + end
PowerPoint video export
Pros:
Complete control over recording; can stop, start, remove sections and repeat slides easily.
A familiar, well supported application to work with.
Cons:
No webcam option.
Does not record your pointer.
For reliability you would benefit from being on Windows 10 or recent OS X with up-to-date Office 365, although this process does work on older versions.
Overview
Follow the Basics guide to set your scene, lighting and other considerations first, then:
Record presentation voice over & timings in PowerPoint
Export as MP4
Upload to the Video Portal
Detailed instructions
Recording Powerpoint video lectures
This produces a slides and voice type recording with no option to include webcam footage.
Zoom lecture recording
Pros:
Can record any of your screen, not just PowerPoint.
Take advantage of the built in transcript function.
Zoom is fairly simple & familiar.
Can include the webcam in the recording.
Quick; one take and you're done. Good for confident speakers (and for uses where small mistakes don't matter).
Records the pointer.
Can switch between webcam and screen sharing using the Zoom controls & the recording will reflect this change, although this isn't super quick.
Can generate an editable transcript (cloud recordings only – turn this feature on in advance of the session, see here)
Cons:
Mistakes are captured unless you start again.
Audio and video quality depends on your internet connection and is generally of a lower standard than direct recordings.
The webcam recording is quite small when you are sharing the screen.
Overview
Follow the Basics guide to set your scene, lighting and other considerations first, then:
Set your PowerPoint presentation to show in a window
Set your Zoom local / cloud recording preferences to display webcam image to the side of the screen share
(Optional extra) Set Zoom to generate audio transcripts (one time enable, always on after)
Use the desktop Zoom client, share your powerpoint and record yourself to either your hard drive or to the cloud.
If using the cloud (required for auto transcripts), download the resulting recording and transcript from your account, under 'Recordings' in the website zoom.us.
Upload your video and .vtt transcript file to the video portal and embed into your course.
Zoom Tip: Remember to use an ethernet cable with when possible!
Detailed instructions
Set the preferences for Zoom local or cloud recordings depending on which you are using as follows.
Local Recordings (Zoom app Settings > Recording):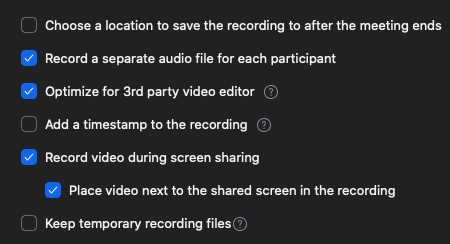 Cloud Recordings (here)
The options we're most concerned about in this method are to make sure Record active speaker with shared screen , and Audio Transcript are checked.

Displaying the participant's name is at your discretion.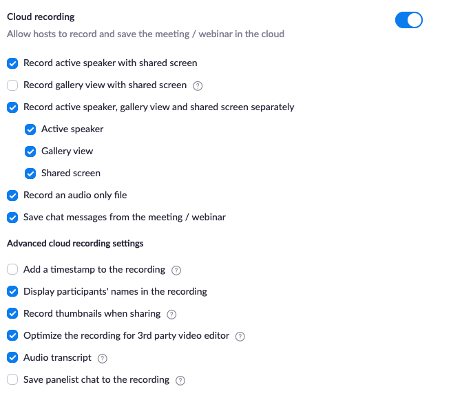 Using Zoom to Record Presentations
This method uses a presentation application (usually PowerPoint, but could be anything) captured by Zoom, alongside your audio and, optionally, the webcam as a small addition to the side.
---
Was this helpful?
We can only improve our service if you tell us what you think.