Why use discussion boards?
Discussion boards can be a great way to promote engagement in online learning. Students can discuss individual or group tasks, ask questions, share expectations and experiences or use it as a social space to connect with peers.
Top tips for discussion boards:
Set a purpose for each discussion board and be clear on how they are to be used and whether they will be monitored
Consider having different discussion boards for different weeks or topics, so students can come back and find queries easily
Be active on your discussion boards. Respond to posts, ask follow-up questions and encourage discussion. If you want social activity to happen, you should facilitate it
Consider an icebreaker activity. Empty discussion boards can be daunting.
The following resource provides more information on using discussion boards as part of building an online community. See the 'Online socialisation' and 'Information exchange' sections for tips on icebreaker activities and using discussion boards effectively:
---
---
Blackboard discussion boards
Guidance on Blackboard discussion boards is available here:
---
---
There are also some quick how-to guides and short videos below.
Setting up discussion boards
Every unit on Blackboard contains a course discussion board. If enabled, groups can also have individual discussion boards. The course discussion board may already be linked in the left-hand menu, usually called 'Discussions' or 'Communication'. To view all the discussion boards within a course, go to Control Panel> Course Tools> Discussion Board.
From here you can view the course discussion board (at the top of the list), as well as any group discussion boards that are available: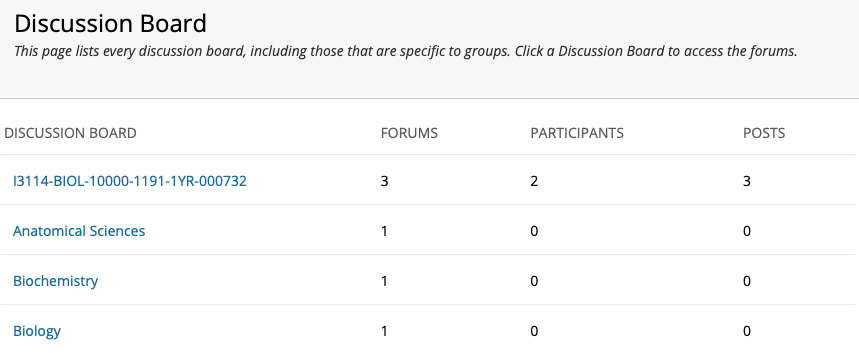 In this example, you can see that each discussion board contains at least one forum. A forum is an area of the discussion board where students can post and reply to each other. For course discussions, these need to be set up in advance. For group discussions, these are controlled by the group settings and students may be allowed to create their own.
Course discussions
For course discussion boards, forums need to be set up by the instructor in advance and would usually be for a specific topic or assignment. To add a new forum, click on the course discussion board and click 'Create Forum' at the top.
A thread is a conversation within a forum. These can either be set up in advance by the instructor or you can allow students to create their own. The 'Create threads' knowledge base article linked below contains some examples of when you might want to turn threads on or off.
For more information on forums and threads, see the following articles:
Group discussions
For group discussion boards, forum settings are under 'Tool Availability' in the group properties and students can be given the ability to create their own forums. If you select 'Do not allow student group members to create forums', a single forum will automatically be added to the group discussion board.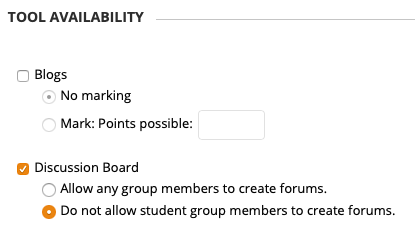 For more information see the following:
Group discussions
Add a discussion board link to Blackboard
Once you have set up your forums/threads, you can link the discussion board to your Blackboard page. To do this, navigate to the area in the course where you would like your link to be. Click 'Tools' in the top bar and select 'Discussion Board'
From here you can select to link to the discussion board page or to a specific forum.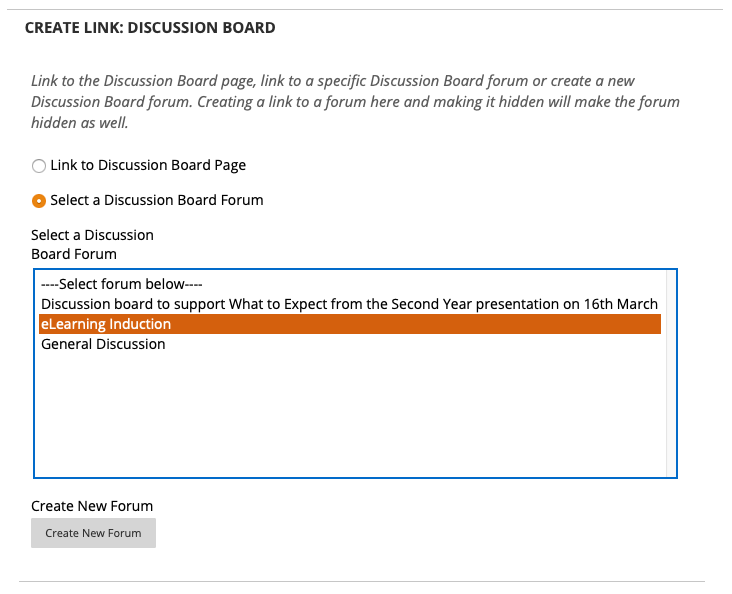 Course discussions
Group discussions
Adding a discussion board link to Blackboard
---
Navigating discussions
The course discussion board is often accessed by a 'Discussion' or 'Communication' link in the left-hand menu of a Blackboard course. If a menu item or link is not already set up, it can also be viewed from the Control Panel> Course Tools> Discussion Board. This will also show you any group discussion boards that are available in the course. For more information on navigating your course discussion board please watch the video below.
---
Replying to discussions
Watch the video below for more information on replying to discussions.
---
Email subscription to discussion boards
If you are "Subscribed" to a discussion board in Blackboard, then the Blackboard system will email you whenever a new post is added to the forum that you are subscribed to. This is handy for staff and students as it means you won't need to remember to check discussion boards. It is also helpful for students with DSO requirements who may need additional support locating new posts.
Before you can choose to subscribe to a discussion board, you must first switch on the subscription tool. Once the subscription tool is activated, you and your students can opt in/out of subscribing to that board.
We are guiding all course coordinators and those who set up discussion boards of their own to set the option to allow subscriptions by the users, including the body of text in the email that is sent out. This option is here, under the 'edit' button for the forum, or is available when setting up a new forum: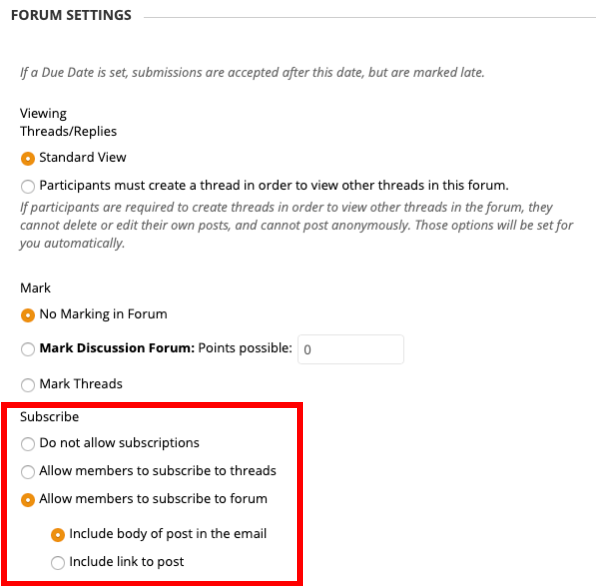 Once you have set up subscriptions, you must navigate to the forum and click 'subscribe' at the top. For more information please watch the video below.
Was this helpful?
We can only improve our service if you tell us what you think.