Reviewed: 02/01/2020
For a full guide on Discussion boards, there are guides available on the Blackboard knowledge base, such as this one:
How to create discussion boards
There are also some quick guides below on various Discussion board based topics:
Navigating Discussions
Loading Video Player….
How to reply to discussion boards
Loading Video Player….
Subscription to discussion boards
If you are "Subscribed" to a discussion board in BB9, then the BB9 system will email you whenever a new post is added to the forum that you are subscribed to. This is handy for staff and students as it means you won't need to remember to check discussion boards. It is also helpful for students with DSO requirements who may need additional support locating new posts.
Before you can choose to subscribe to a discussion board, you must first switch on the subscription tool. Once the subscription tool is activated, you and your students can opt in/out of subscribing to that board.
Helpful Hint
We are guiding all course coordinators and those who set up discussion boards of their own to set the option to allow subscription by the users, including the body of text in the email that is sent out. This option is here, under the Edit button for the forum, or is available when setting up a new forum: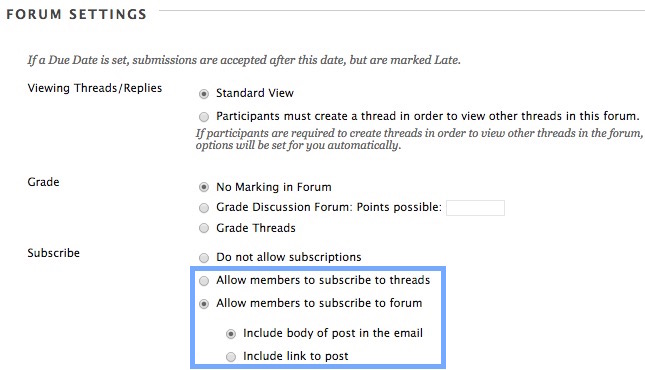 If you are creating a new discussion forum, the instructions are the same. To see a video, look here:
Loading Video Player….
This video shows how to subscribe to a discussion board that already has subscriptions activated.
Loading Video Player….