Organisation and layout
Banners
Banners for new units or units where the title or course code have changed can be requested from the eLearning team. To aid consistency, template banners are available that can be used across a programme or school. For assistance with a banner, please contact the eLearning Team.
Launch page
It is recommended that each course unit has a consistent entry point to assist navigability, for example: Homepage, Course Content or Course Information. To assist students navigate, it is wise for all units in a programme to consistently use the same page. The entry point of the course unit can be set in the control panel under Customisation > Teaching Style.

Navigation
Students tell us that they value consistency of navigation features so that they know where to locate key elements when visiting a new course unit for the first time. By 'consistent', we mean recognisably similar, not necessarily identical. Therefore it is helpful for navigation to be consistent across all course units within a programme.
Since some programmes share course units with others, the easiest way to address this issue is to apply the recommended Blackboard Standard Course Structure (SCS) when you activate a course unit, or you can recreate it within an existing unit. The layout below is representative of this structure.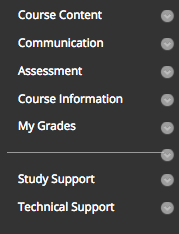 "Are eLearning resources easily navigable and the online experience consistent; is the structure and signposting similar for each area?"