Organising students, files and tools
Groups
You can assign students or cohorts to groups in Blackboard and then use adaptive release so as to customise their view of the unit; for example, where T&L content, activities or assessment are slightly different and tailored to each.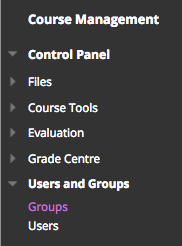 File management in Blackboard
The rollover of course units year on year can result in Blackboard course unit Files folders containing 100s of unsorted items, many being duplicates or out of date. It is recommended that the Files folder is regularly maintained and the individual files sorted into folders, especially when there are several contributors to a course unit.
Tool management in Blackboard
It is recommended that old grade centre columns and Turnitin assignments be deleted and that these be started afresh each year, as column management can prove complicated otherwise.
Was this helpful?
We would love to know if we got it right.