This guide covers:
PAGE 1 Quiz questions, quiz groups and activities
PAGE 2 Embedding videos
PAGE 3 Embedding other content
You will find links to the relevant learning material from SoftChalk's eLearning video guides within this content.
---
Quiz questions, quiz groups and activities
Formative quiz questions and activities can be added into your lesson for students to complete as they go through.
---
Quiz questions and quiz groups
There are many different question types e.g. MCQs, short answer, match pairs. These can be added as individual questions or within a group of questions.
To add a single question, go to Insert > QuizPopper and choose the question type
To add multiple questions in a group, go to Insert > Quiz Group. This will give you options to name the quiz and give instructions for that group of questions
Video 4d: Quiz Groups will walk you through adding questions to a quiz group and the different settings you can use
Go through each tab in turn and select your settings/add your questions
Remember to assign a points value to each question, the default is 0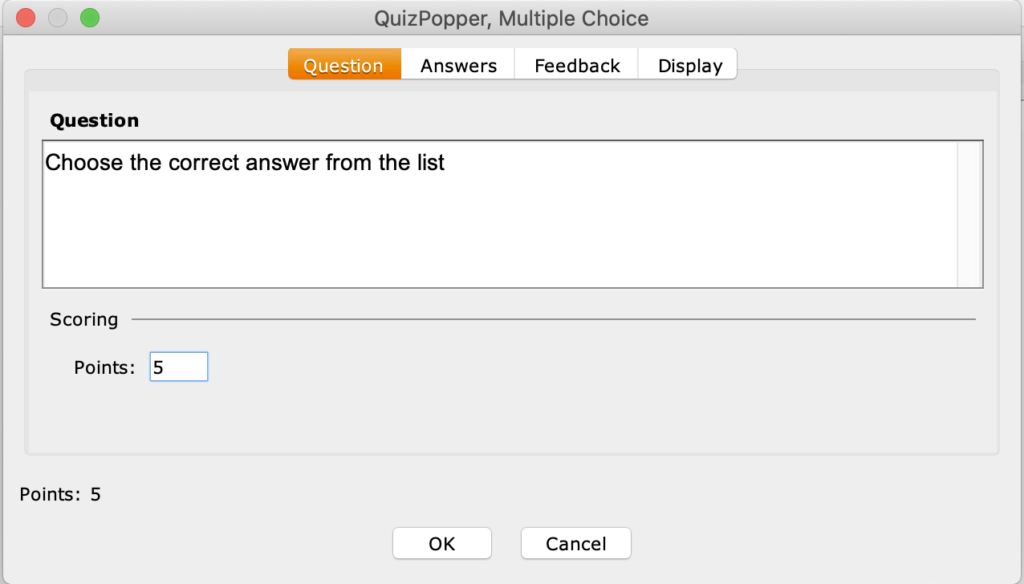 Be sure to check the 'Display' options. For individual questions, this can be done from the tab at the top. For quiz groups, this needs to be done from the main Quiz Group box and cannot be changed for individual questions within the group
'Pop-up from icon' and 'Pop-up from clickable text' requires students to click an image or text in order to complete the question. This does not work well on some browsers and mobile devices, so it is recommended you choose 'Embed in lesson page' so that the question appears open within your lesson
Preview > Preview in Browser to test

The image below shows 2 identical MCQ questions. The first is set to 'Pop-up from icon' and the second to 'Embed in lesson page'.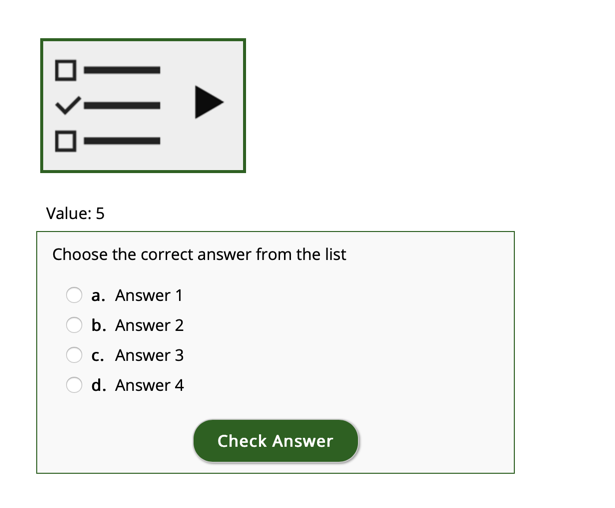 ---
Activities
SoftChalk comes with a variety of interactive activities you can add into your lesson. These include labelling exercises, card sorting, timelines, hotspots, etc.
Go to Insert > Activity and choose from the list
Each activity has different options and settings. If you are unsure of what an activity is, click the question mark symbol on the new style activities or go to the 'How To' tab on the old ones. This will take you to a detailed video tutorial for that specific activity type
Remember to assign a points value, the default is 0
It is not possible to add feedback text on activities
Be sure to set the activity display settings. As with the questions, it is recommended that you choose 'Embed in lesson page'
Once you have inserted your activity, you can edit by right-clicking on the activity box and choosing 'Modify Activity'
Preview > Preview in Browser to see how this will look in your lesson