Apps for Active Learning: An Ulster Perspective
– 22nd November 1 – 2pm
Richard Beggs –Curriculum Design Consultant | Centre for Higher Education Research & Practice
Ulster University, Northern Ireland
Webinar recording and resources
Collaborate class board
https://collaborative.nearpod.com/reports/300571794/8d255cfe42d833780b9b2df93b556ae9?parent_id=0&sn=6c11a9e290c0da07417401d2d040f019
Cities 360 Fieldtrip – Jordanstown campus
https://www.360cities.net/image/u-4
About Richard
Since May 2016, Richard has been leading a Digital Futures Strategy pilot on Apps for Active Learning across the University. This webinar 'Apps for Active Learning: An Ulster Perspective' will explore the rational for the pilot, the drivers within Ulster (New Curriculum Design Principles, Learning Landscapes Project, New Campus, NSS results, New Learning and Teaching Strategy, TEF), the methodology undertaken for encouraging adoption, the apps used, case studies, results from the first year of the pilot, lessons learned, transferability of practice across institutions and future plans.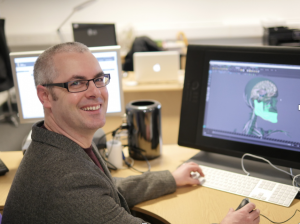 Richard Beggs is a Curriculum Design Consultant within the Centre for Higher Education Research & Practice at Ulster University, Northern Ireland. He has held various instructional design related posts at Ulster in their digital learning department for over 11 years. Prior to joining Ulster, Richard worked in the design sector in Belfast, BBC Northern Ireland and Council for the Curriculum, Examinations and Assessment in their multimedia departments. Richard's undergraduate degree is in Visual Communication and his Post Grad is in eLearning: Interactive Teaching Technologies. He is a Senior Fellow of the Higher Education Academy, a certified member of ALT, a Distinguished Learning and Teaching Support Fellow and was shortlisted for ALT's Learning Technologist of the year in 2017.

(Watch submission video https://youtu.be/pExvWqrSVV8).
Richard has presented at national conferences in UK and Ireland on apps in education.
Richard Beggs
Curriculum Design Consultant | Centre for Higher Education Research & Practice
CMALT | SFHEA | FCHERP | Distinguished Learning and Teaching Support Fellow
T: +44 (0)28 9036 8629
E: rtg.beggs@ulster.ac.uk W: https://www.ulster.ac.uk/cherp
Twitter: https://twitter.com/RbeggsDL
Was this helpful?
We can only improve our service if you tell us what you think.
FBMH eLearning International Webinars