PLEASE NOTE: The Turnitin Assignment option in the Assessments menu will be removed shortly.
These are instructions on how to create TII submissions using the Turnitin Assignment (Current) pathway. This will be the default pathway going forward for the creation of TII submissions.
Turnitin (TII) is a tool that allows students to submit their written work in the form of a .pdf or .doc to Blackboard. TII then automatically scans the document for signs of plagiarism. These plagiarism scores should be treated as an indication that further investigation is required; the score should not be treated as absolute evidence that plagiarism has occurred.
Step 1 – Set up Turnitin Assignment (Current)
On the horizontal navigation bar within your Blackboard Content area go to: >Build Content>Turnitin Assignment (current).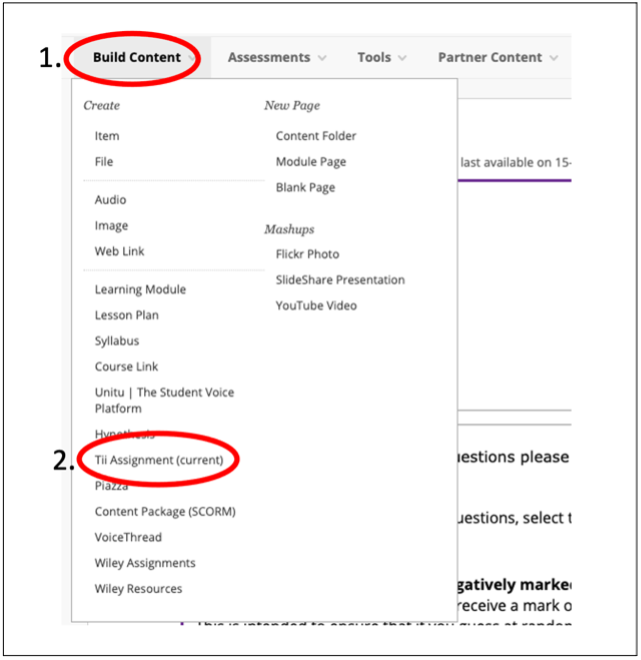 Step 2 – Enter Assignment Settings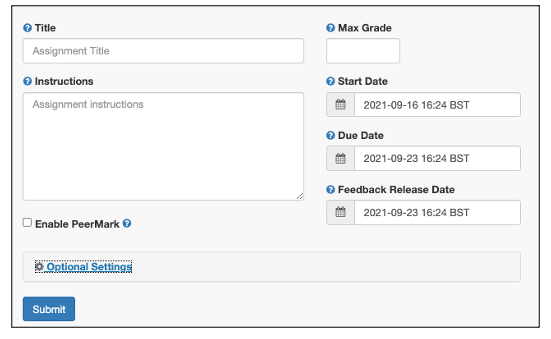 Instructions: Be sure to add information about the standard naming convention in this box, as well as any other important instructions. All students should submit work with a title made of the following: Marker Surname, Student ID, BIOL code. E.g HIGH7654321BIOL10000.
Feedback release date: is the date and time students can begin viewing their comments and grades. In UoM this will also be the date the results are transferred to the Blackboard Grade centre.
NOTE – Enable Peermark will remain unchecked. (unless specifically desired)
Step 3 –
Optional Settings (aka Essential Settings)

To begin customizing your Turnitin assignment, click on the 'Optional Settings' tab to display all submission settings.
You can hover your cursor over the icon in Turnitin to view more information about each individual setting.
The settings displayed below are the default settings for a Turnitin assignment.
FBMH Recommended Settings


Please click here to view recommended settings

Allow submission of any file type – if you decide to check this box please be aware that TII can only generate similarity reports on DOC, DOCX, HTML, TXT, RTF, PDF, ODT, HWP, PPT, Adobe Postscript, Corel WordPerfect and Google docs via Google Drive.
Attach a rubric – this may be a desirable option for some. There is a set of rubric templates and existing rubrics available in the rubric manager. If you wish to create your own please visit: https://help.turnitin.com/feedback-studio/turnitin-website/instructor/rubric-scorecards-and-grading-forms/creating-a-rubric-or-grading-form-during-assignment-creation.htm
Step 4 –
Don't forget to Submit!

Extra Help:
Last Modified: 06/01/2022
Was this helpful?
We can only improve our service if you tell us what you think.
How to Add a Turnitin (TII) Essay Assignment in Blackboard