Updated: 03/11/2021
After submitting work, it's important that you make use of the feedback given to you by your tutors.
Step 1: Locate your assignment and feedback
You can view your provisional grades and Feedback (if given) from submitted Turnitin assignments by returning to the area in Blackboard where the assignment link is shown (i.e. wherever you submitted your assignment). The picture below shows the link to the Turnitin assignment.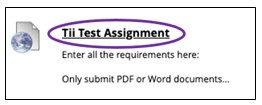 Step 2: Navigating the Turnitin Assignment Dashboard

Once you click the assignment link you will be presented with this interface, explained below.
a. This gives a summary of the Assignment Instructions, Start Date, Due Date, Feedback Release date etc.
b. and c. These links allow you to view your submission along with feedback.
d. This will display a similarity percentage (though this is usually hidden from students)
e. Upload another version of the assignment (if allowed and within the allotted time period)
f. Download the assignment
g. Download a pdf digital receipt of submission of assignment
Step 3: Viewing the feedback
Once you click on b or c above your assignment with marks and feedback will be opened in a new window.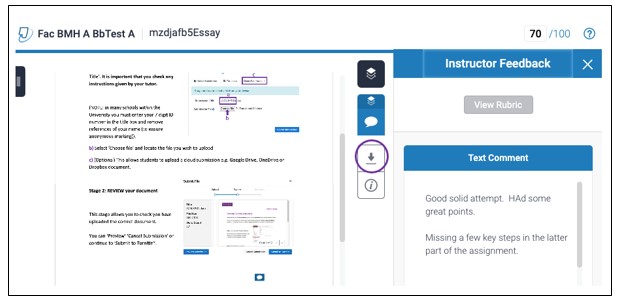 Marks
The provisional grade (or Mark) appears at the top right corner of the screen, typically showing a mark out of 100.
Feedback comments
The tutor may have added feedback comments directly to the pages in the form of 'bubble' comments. These appear as blue boxes, with either white text or a white speech bubble.
General Comments
These may have been added to the piece of work and will be shown in the right-hand pane of the screen that you are viewing to see your work. General comments apply to the whole paper, as opposed to the comments added to particular parts of the paper. If your tutor has recorded a Voice Comment, this will be accessible from the same pane as the General Comments. If a rubric has been used, it will also be accessible from this pane.
Downloading the document and feedback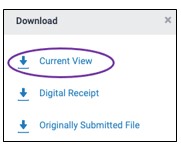 You will be able to view feedback directly on this page, however, it is recommended to 'download' the assignment by clicking on 'download' in the screenshot above. Then selecting 'Current View' (circled above).
NOTE: Make sure you save it to a personal folder or external drive. Do not save any of your personal files to a desktop in a computer cluster.
Your downloaded file will be a PDF and will show your original essay and any Feedback Studio report information and feedback attached to your paper. Both 'bubble' and general comments will be given at the end of your work, as shown below. If a rubric has been used, this will be shown at the end of the paper.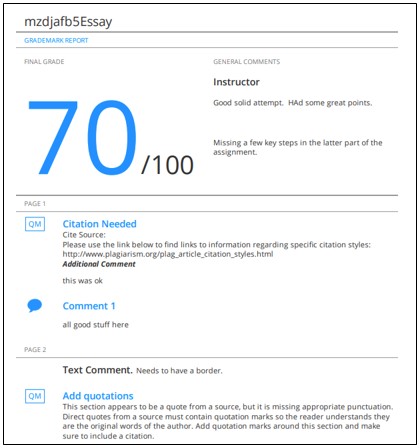 Things to keep in mind
Marks are not always provided through this interface, as sometimes penalties need to be applied to some submissions before mark release. In these cases, marks will usually be released via the intranet system.
Where marks are available, they are provisional and may be subject to change.
Different assignments are marked in different ways; please always check to see if "general feedback" or a "rubric" is provided with the assignment, as sometimes feedback is provided via these tools.
THE END
Was this helpful?
We can only improve our service if you tell us what you think.
Turnitin: A Student Guide to Downloading Feedback