Working with the left-hand menu
Teaching staff usually find themselves working on an already well-established course, rather than starting with a 'blank canvas'. Adding new content should be done with consideration of the existing structure and content.
Occasionally, you may need to add or edit something in the left-hand menu.
You can:
Add/Hide/Delete a content area
Add/Hide/Delete a Tool Link
Add/Hide/Delete a Web Link
Change the title of a menu item
Add/Remove/Delete a Module Page (e.g. Notice Board)
Try to work with the approved menu structure wherever possible!
Before you continue…
Visit the Blackboard Help Page: Navigate inside a course
Read through the information up to the section on paging options. This will prepare you for the next step where you will start editing your menu.
Using this screenshot below as a guide, work through the activity that follows.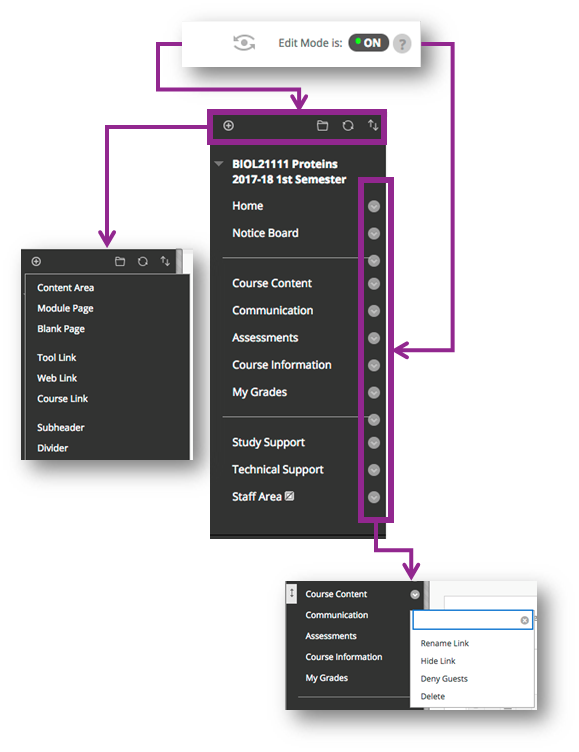 Activity
Start by checking "Edit Mode" is "ON"
You will find extra options as shown in the image above.
Click the down-facing arrow (action link) against an existing item to edit.
Change the title of the item (Rename Link).
Select Hide Link, then turn "Edit Mode" to "OFF". You will see that the item is no longer visible on the menu.
Return "Edit Mode" to"ON", click the action link against the item and select Show Link.
If there is an item on the menu that you no longer require, you can delete it, but if you are in any doubt, choose the Hide Link option. This removes it from student view. This is also a useful option if you are working on a new area that you don't want students to access until complete.
Adding new menu items
As well as editing existing menu items, you can add new ones.
The Blackboard guidance you were pointed to in the Getting started training explains the different "Menu Items" and how you might use them. The videos below briefly demonstrate how to add a Tool Link and a Content Area:
How to Add a Tool Link to Your Course
---
Add a Content Area
Activity – Add menu items
(Have you checked "Edit Mode"?)
Click the + button to add something to the left-hand menu.
Construct a Left Hand Menu as follows:

"Home" is a Blank page
"Notice Board" is a Module page
"Course Content" is a Content area
"My Grades" is a Tool Link
"BBC" is a web link [URL: https://www.bbc.co.uk/]
If you feel confident with the left-hand menu, move to the next page where we will look at adding files to the Content Collection.
---